Pillowcases
---
Original functional cover for your SEVEN SUNDAYS pillows
Shipping 5,90 € (from 120 € free shipping). Free return.
Delivery time 7 working days.
Our satisfaction guarantee:
✔ Free returns if you're not satisfied

✔ 2 years premium product guarantee
You have questions?
Let our product experts call you back or schedule a free sleep consultation now.
Use sleep to recharge your batteries for the day
The Sleep System Revolution
All info
Best quality: certified & award-winning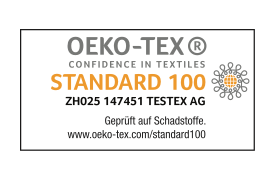 Genuine craftsmanship from Switzerland
The Swiss sleep manufacturer SEVEN SUNDAYS specialises in premium products for better sleep, which help you to recuperate optimally while you sleep and thus wake up feeling more energetic. With our modular Sleep Systems, we have reinvented the mattress. Our pillows offer the best support for your head and neck. And we continue to research and broaden our range of high-quality and valuable sleep products for you. You, too, can benefit from innovative sleep technology.