Softness Topper
---
High-quality mattress topper made of down and natural latex
Shipping 10,90 €. Free return.
Delievery time 2-4 Weeks.
Our satisfaction guarantee:
✔ 30 nights' trial sleep

✔ Free returns if you're not satisfied

✔ 30 months premium product guarantee
You have questions?
Let our product experts call you back or schedule a free sleep consultation now.

Sleep tech – Handmade
Feel-good factor
The functional topper for an extra fluffy sleeping experience with a cuddly soft feeling.
Comfortable support effect
Shredded latex made of natural rubber provides increased support and thus more a comfortable lying sensation.
Ideal sleeping climate
Not too warm, not too cold, not too damp - thanks to a climate-regulating mix of natural materials.
Maximum hygiene
The Softness Topper is completely washable at 60° and can be dried on a low setting.
Why customers love the Softness topper
Your functional topper made of natural materials
for a particularly soft lying sensation
Heavenly soft, wonderfully comfortable: sleep as if you're in a 5-star hotel on a down topper that has more to offer than just soft down.
The SEVEN SUNDAYS Softness Topper is a high-quality down topper with natural latex content. It has been developed for all those who love the extra-soft lying sensation of down and at the same time want to lie on an orthopaedically designed topper. The high-quality down is particularly fluffy, making the mattress topper a place of absolute comfort in your bed. The 100% natural shredded latex it contains increases the support of the topper, i.e. your body is better supported in its natural shape – in any sleeping position. The climate-regulating properties of the down ensure an optimal sleeping climate and a pleasant sleeping temperature, both in summer and in winter.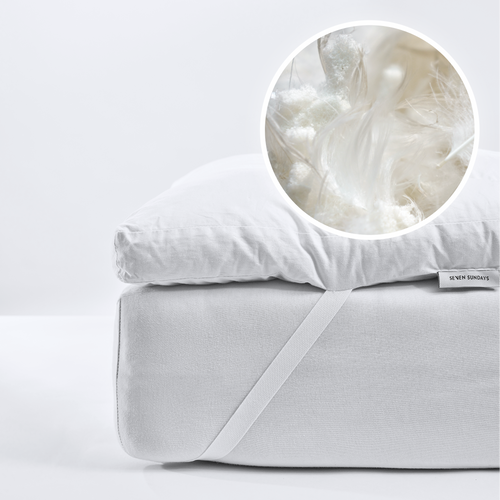 Down topper for a cosy sleep
Down toppers are considered the ultimate in luxurious sleeping comfort. The fine, three-dimensional down feathers are hard to beat in terms of softness and thus guarantee an extremely cosy and fluffy feeling of lying on clouds. Compared to other topper filling materials, down is also particularly heat- and moisture-regulating.
Want to know more about SEVEN SUNDAYS Sleep Systems?
Your Sleep System designed to last a lifetime
All details
Best quality: certified & award-winning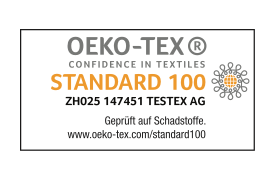 Genuine craftsmanship from Switzerland
The Swiss sleep manufacturer SEVEN SUNDAYS specialises in premium products for better sleep, which help you to recuperate optimally while you sleep and thus wake up feeling more energetic. With our modular Sleep Systems, we have reinvented the mattress. Our pillows offer the best support for your head and neck. And we continue to research and broaden our range of high-quality and valuable sleep products for you. You, too, can benefit from innovative sleep technology.