Memory Topper
---
High-quality mattress topper made of luxury memory foam
Shipping 10,90 €. Free return.
Delivery time 2-4 weeks.
Unsere Zufriedenheitsgarantie:
✔ 30 Nächte Probeschlafen

✔ Kostenlose Retouren bei Nicht-Gefallen

✔ 30 Monate Premium-Produktgarantie
You have questions?
Let our product experts call you back or schedule a free sleep consultation now.

Sleep tech – Hand made
Rückengesunde Ergonomie
Der ergonomisch optimierte Funktions-Topper für einen besonders rückengesunden Schlaf.
Komfortabler Memory Effekt
Premium Memory Foam mit hohem Raumgewicht sorgt für punktgenaue Anpassung an die Körperkontur.
Ideales Schlafklima
Nicht zu warm, nicht zu kalt, nicht zu feucht – dank atmungsaktiver Top Materialien und Spezial-Punktierung.
Maximale Hygiene
Der Bezug ist bei 60° waschbar, trocknergeeignet und verträgt regelmäßiges Waschen sehr gut.
Why customers love the Memory topper
Dein Funktions-Topper aus Visco Schaum
für ein weiches und ruhiges Liegegefühl
Mehr Schlafkomfort, mehr Schlafruhe, mehr Entspannung: Schlafe auf einem Visco Topper, der sich Deinem Körper optimal anpasst.
Der SEVEN SUNDAYS Memory Topper ist ein hochqualitativer Visco Topper mit hoher Thermoelastizität. Der Funktions-Topper reagiert auf Körperwärme und passt sich Deinem Körper somit optimal an. Diese Matratzenauflage ist die richtige Wahl, wenn Du gern gemütlich, weich und komfortabel liegst. Mit seinem Formgedächtnis nimmt das Material Deine Körperkontur auf und unterstützt so einen ruhigeren Schlaf. Die Memory Foam Topper Kernhöhe von 5 cm ist genau richtig, um optimal von den druckentlastenden Eigenschaften zu profitieren, ohne jedoch zu tief in den Viscoschaum einzusinken. Die Kombination aus Weichheit und Stützkraft für eine orthopädisch korrekte Lagerung der Wirbelsäule macht diesen Visco Topper zu unserem beliebtesten Matratzentopper.
Visco Topper für einen ruhigeren Schlaf
Die verwendete Premium Viscose des Memory Toppers reagiert auf Körperwärme und schmiegt sich gezielt an Deinen Körper an. Ihre thermoelastischen Eigenschaften mit Memory Effekt sorgen dafür, dass Dich der Topper durch seine Anpassung an Deine Körperkontur sanft in Deiner Schlafposition hält. Durch das leichte Einsinken in den Topper und das träge Materialverhalten werden übermäßige Bewegungen beim Einschlafen bzw. im Schlaf auf angenehme Weise ausbremst. Der Visco Topper trägt somit in jeder Schlaflage zu mehr Schlafruhe bei. Memory Foam, wie er auch in medizinischen Matratzenauflagen verwendet wird, ermöglicht optimale Entspannung in jeder Liegeposition.
Orthopädische Eigenschaften des Memory Toppers
Mit seinem speziellen viscoelastischen Schaum garantiert der Memory Topper nicht nur ausgezeichneten Schlafkomfort, sondern überzeugt auch aus funktionaler Sicht. Die präzise Körperanpassung für eine optimale Druckverteilung, die punktgenaue Druckentlastung, die weichen Liegeeigenschaften und der entspannende Memory Effekt bieten orthopädisch bedeutsame Vorteile für einen gesunden Schlaf. Ein Visco Topper kann etwa bei Durchblutungsstörungen, Verspannungen, Wirbelsäulenproblemen, Bandscheibenvorfällen oder auch zur Dekubitus-Prophylaxe sinnvoll sein. Maßgeblich für den orthopädischen Nutzen ist eine hohe Schaumqualität mit hoher Thermoelastizität. Mit einem Raumgewicht von RG 55 erfüllt der Memory Topper höchste Qualitätsansprüche.
Du möchtest mehr wissen über SEVEN SUNDAYS Schlafsysteme?
Dein Schlafsystem fürs Leben
Alle Infos
Beste Qualität: zertifiziert & prämiert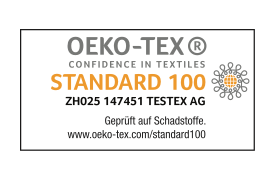 Echte Handarbeit aus der Schweiz
Die Schweizer Schlafmanufaktur SEVEN SUNDAYS ist spezialisiert auf Premium-Produkte für besseren Schlaf, die Dir helfen, optimal im Schlaf zu regenerieren und dadurch mit mehr Energie aufzuwachen. Mit unseren modularen Schlafsystemen haben wir die Matratze neu erfunden. Unsere Kopfkissen bieten Dir beste Unterstützung von Kopf und Nacken. Und wir forschen weiter, um unser Sortiment hochwertiger und nützlicher Schlafprodukte kontinuierlich für Dich zu vergrößern. Profitiere auch Du von innovativer Schlaftechnologie.